We Create Building Concepts
Trends Engineering & Construction is a CIDA C4 Certified Architectural and Construction company, focusing their efforts mainly in the Construction, Architectural, Interior and Exterior Design sectors, and have been an established name in the market for over 10 years.
Trends was founded in 2010 by Amry Azeez, a qualified Quantity Surveyor with professional qualifications in Building Economics and Construction Management. The company started off as a CIDA C11 Certified company and has now achieved the lauded CIDA C4 Certification with the ability to bid for Government Tenders up to LKR 200 Million.
The crown jewel of Trends Engineering & Construction is its workforce of Chartered Structural, Mechanical & Plumbing Engineers, Chartered Surveyors, Technical Officers, Supervisors as well as skilled workers. The work culture at Trends fosters loyalty and commitment above all else, and it is the founders' firm belief that those values need to be rewarded. This is what has allowed the company to rise to the level it has, in this relatively short period of time.
While the company started off as a simple construction company, Trends Engineering & Construction has now diversified into other areas of construction such as Aluminum Fabrication, Steel Buildings, Road Construction, Construction Vehicle and Machinery Rentals, and has its own factories that provide Tempered Glass, Fittings and Finishes for their numerous residential and commercial projects.
Trends Engineering & Construction has been accredited by the Chartered Institute of Building as an Enterprise Member.
Our Team of Experts
Meet the industry-leading team behind Trends Engineering and Construction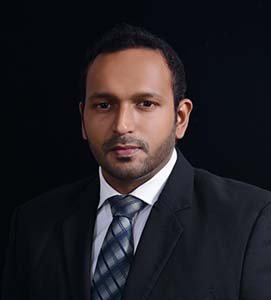 Amry Azeez
Managing Director
The founder of Trends in 2010, Amry is a Qualified Quantity Surveyor with numerous other professional qualifications in areas such as Building Economics and Construction Management. Amry's unwavering resolution and drive to better the company was crucial in the growth Trends Engineering exhibited since its inception. Amry specializes in monitoring consultant service contracts and establishing optimum engineering practices to best serve our clients' project deliverables, as well as forecasting, providing and tracking the fiscal budget and cash flow for the total workforce, facilities, vehicles, equipment and other resources necessary to deliver the assigned construction projects.
Maduka De Soyza
Project Manager
Maduka is an operations professional with a Masters' Degree in Construction Project Management & Construction Management as well as a B.Sc (Hon) in Quantity Surveying and Commercial Management (First Class Honors) from Liverpool John Moores University.
Maduka specializes in ensuring project data integrity and documentation accuracy, timely action and coordination. He is responsible for tracking the progress of each project against goals, objectives, approved budgets and approved timelines, as well as manage change requests and change orders between our clients and the workforce.
Damitha Ranasinghe
Structural Engineer
Damitha is an accredited structural engineer who was awarded his Bachelors' Degree (B.Sc.) in Civil Engineering in 2013 and his Masters' Degree in Construction Project Management in 2019 from the University of Moratuwa.
Damitha specializes in the design of safe and sustainable structures, with an ability to take a sophisticated concept design and develop a solution that is capable of being executed practically, safely and within commercial parameters. He is also in charge of designing structural components for large-scale projects, including analyzing survey reports, topographical maps, zoning restrictions and client requirements to ensure the project requirements are met.
Krishan Wijemanne
Quantity Surveyor
Krishan is a qualified Quantity Surveyor, who was awarded his MSc in Construction Management and BSc in Quantity Surveying and Constriction Management (First Class) from Liverpool John Moores University.
Krishan specializes in providing estimates for a wide range of projects starting from small scale to large scale constructions, as well as provide consultations on contract administration, cost consultation, quantity surveying and construction cost estimation services.
The tried and tested workflow model that we employ for all our projects.
Here at Trends Engineering we have developed a simple workflow that we use for every project that we work on, be it a smaller residential interior design job to a multi-million enterprise construction project. Each project is assigned a Project Manager who works closely with the client and acts as the liaison between the Client and the Company. Each Project Manager is then assigned either a Project Engineer or a Quantity Surveyor, or both depending on the scope and scale of the project. Each Project Engineer and Quantity Surveyor is in turn assigned a team of Technical Officers and Supervisors of varying numbers based on the scope of the work. In the event the project is a Design & Build solution, there will be a Chartered Architect assigned to the project to oversee the work alongside the Project Engineer and Quantity Surveyor.
It is this team's responsibility to ensure that the project deliverables are to the client's satisfaction and the project is taken from inception to hand-off efficiently and at the highest quality standards.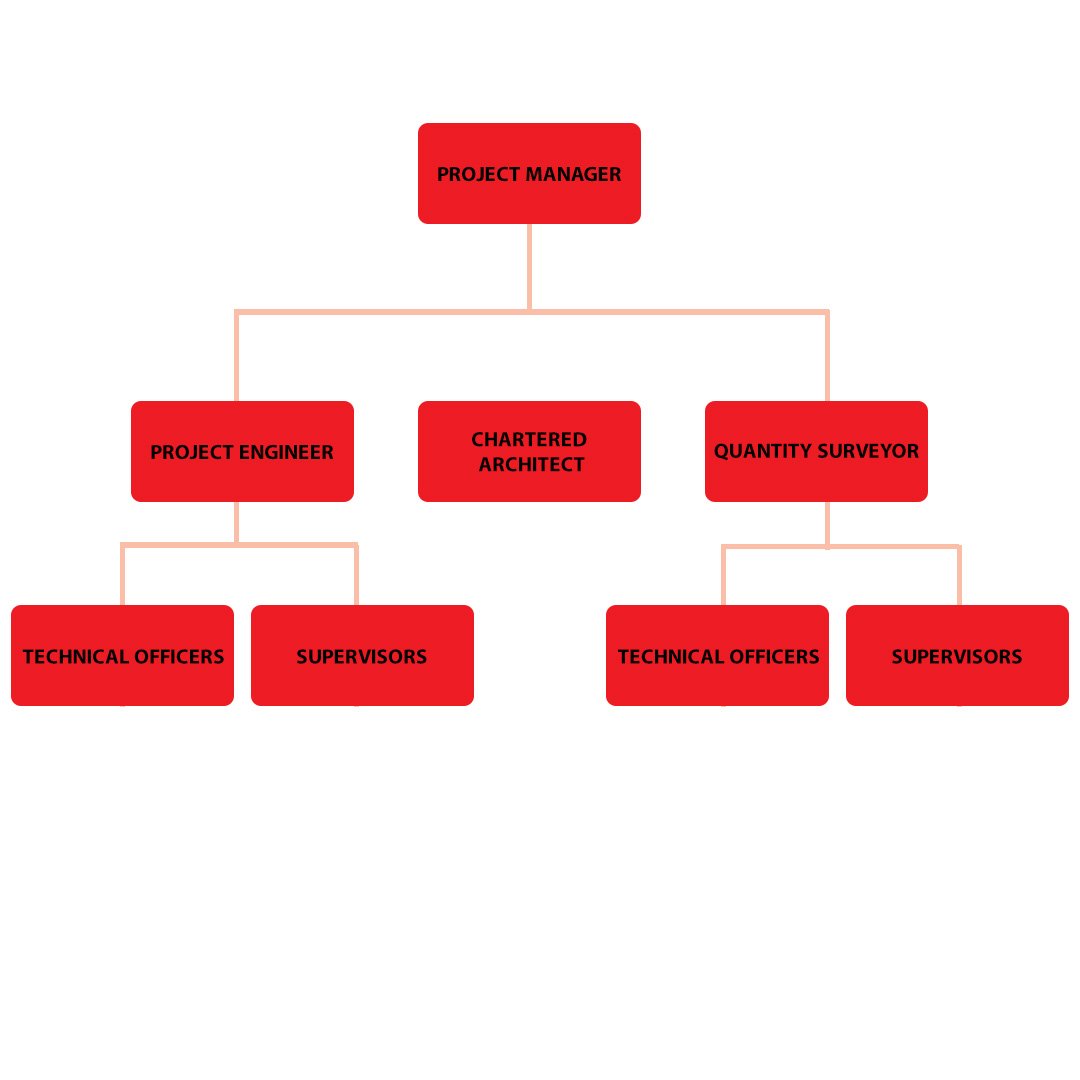 Certifications & Affiliations
CIDA - C4
CHARTERED MEMBER OF CIOB
NCASL
GREEN BUILDING ASSOCIATION